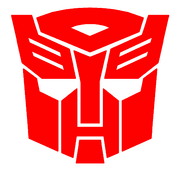 Autobots
are Decepticons' enemies and one of the factions in the race of the Transformers.
Michael Bay series
Edit
The Autobots (autonomous robotic organisms) are the second Cybertronian civilization, being the descendants of the early workers who served the Dynasty of Primes. Following the outbreak of the war, the Autobots became the Transformers who rallied around Optimus, the last of the Primes, to prevent Protector Megatron from claiming the AllSpark. They were formed mostly from the Science Division, the Security Force, and what few members of the Defense Force rejected Megatron's violent ambitions. Although they fought valiantly, the Decepticons were more warlike, and they began to gain ground. In a move to prevent the Decepticons from acquiring the AllSpark, Prime sent it hurtling into deep space. Megatron followed, and disappeared. The Autobots then scattered among the universe, searching for the AllSpark.
Following some twelve thousand years of searching, the Autobots encountered a stranded human vessel in space. Known as Ghost 1, the creatures aboard, named humans, revealed that they had developed the ship based on studies from Megatron. Recognizing that Megatron would destroy their world if he came back online, Optimus tried to send them back to Earth, but they sacrificed their lives to save Optimus from Starscream. Already suspecting that the AllSpark was on their homeworld, the Autobots made efforts to find Earth.
Known Autobots in the Great War
Edit
"Autobot", a contraction of "autonomous robot", was an old philosopical phrase Optimus found on the DataNet and one that he suggested to his friend Megatronnus to be the name of their movement to abolish the caste system. At their hearing with the High Council, Optimus used the term over and over again to remind his enthusiastic followers of the freedom they sought. He implored the Council choose a new Prime, so Halogen chose Optimus as the new Prime, tearing Optimus and Megatronus' movement in two. In the war with Megatron's Decepticons, the Autobots only held fifteen percent of Cybertron, including Iacon and Kalis. The Autobots left Cybertron on the Ark, transported by the space bridge to the Milky Way. Ultra Magnus' Wreckers, Jetfire, Omega Supreme and Alpha Trion remained on the planet.
Known Autobots in the Great War
Edit
Primes
Autobot rookie
Blaster

Eject
Ramhorn
Rewind
Steeljaw
Sunder

Bluestreak
Broadside
Falcatron
Hound
Kup
Revo
Torque
Guardians
Cybertron Council

Alpha Trion
Council leader

Wreckers

Springer
Impactor
Topspin
Twintwist
Roadbuster
Whirl

Aerialbots
Protectobots
Lightning Strike Coalition Force/Dinobots
Community content is available under
CC-BY-SA
unless otherwise noted.